Regular price
$39.99
Sale price
$19.99
Unit price
per
Sale
Sold out
DISCOVER A FASTER, MORE EFFECTIVE WAY TO TREAT FOOT PAIN:
Whether it's caused by age, daily activity, an injury, stress, or a condition like plantar fasciitis, foot pain can have a major impact on your daily life.

Our medical grade NeuroSocks™ relieve the pain fast and help keep it from coming back.
Designed with input from foot experts for maximum support and to give you relief from aching feet, swollen heels and even painful foot neuropathy in seconds!
Created from a lightweight breathable fabric which resists moisture and odors so you can wear them anywhere and for however long you need.
No matter where you are when foot pain strikes, NeuroSocks™ is ready to fight back.

Swelling occurs when veins lose their ability to pump blood back against gravity and up the body.

And when your feet are swollen, this causes incredible pressure which is the source of the numbness and pain you feel.
NeuroSocks™

 

use compression zone technology to provide relief from pain, inflammation and discomfort. The specialized weaves of solid elastic material create pressure on the muscles in your feet while also applying it at different points for more effective treatment; this means that you'll experience almost instant healing effects!

They're tighter around halfway up as well which gently pushes blood upwards away from the bottom of the feet which is amazingly soothing.
WHAT MAKES NEUROSOCKS™ THE PERFECT COMPRESSION SOCK?
- Eliminates Foot Pain: NeuroSocks™ target the root cause of sore feet, to instantly eliminate pain.
- Reduces Swelling: The unique design gently pushes blood upwards away from the bottom of your feet.
- Fits Seamlessly Into Everyday Life: Lightweight fabric means you can wear it 24/7.
- Podiatrist Approved: Designed with input from foot experts.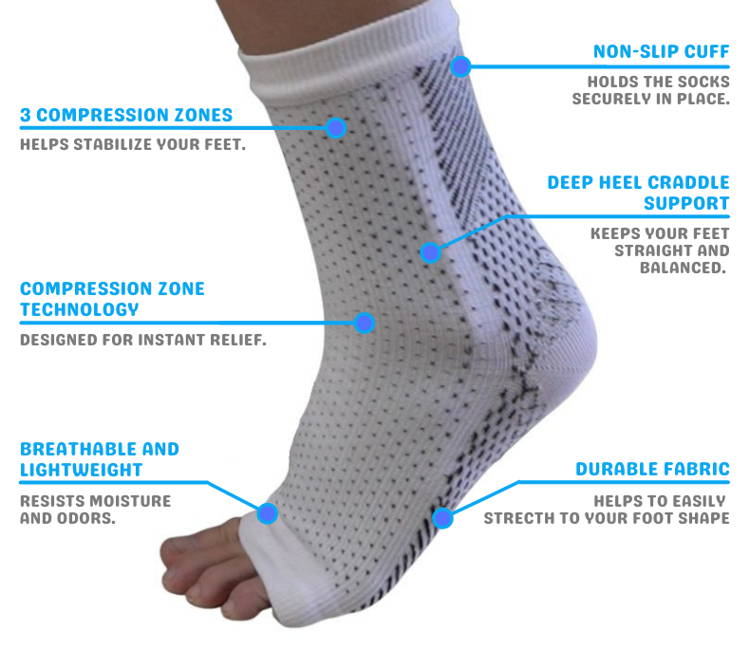 NEUROSOCKS™ FEATURES
- 3 Compressions Zones: Helps stabilize your feet to prevent injury and easy pain in three separate areas.


- Compression Zone Technology: Designed using compression zone technology for instant relief.


- Deep Cradle Heel Support: Keeps your feet straight and balanced for stability and posture.


- Durable Fabric: Utilizing 4-way compression to easily stretch to your foot shape.


- Non-Slip Cuff: Holds the NeuroSocks™ securely in place.
Breathable & Lightweight: Resists moisture and odors.
View full details